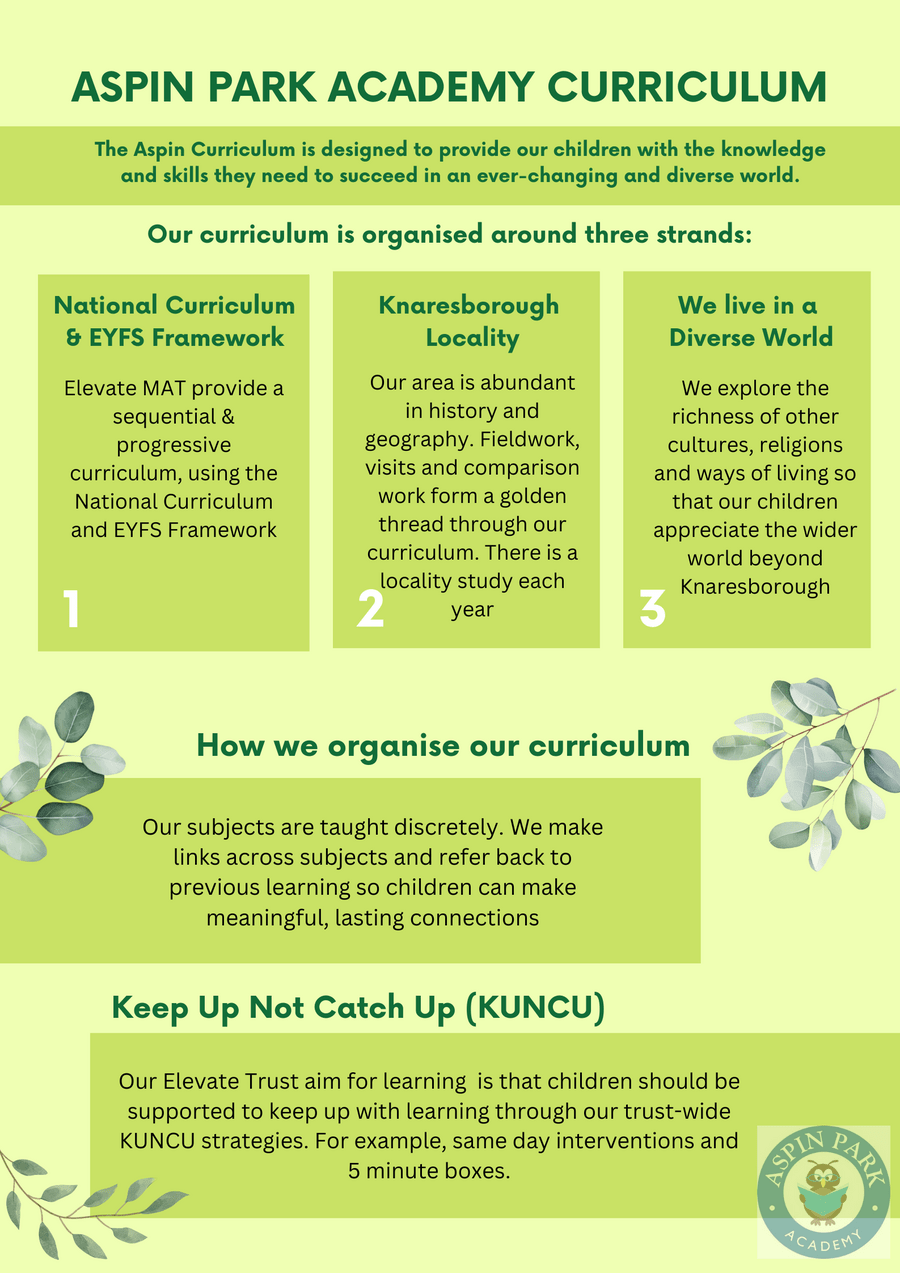 Our Curriculum Vision
At Aspin Park Academy we deliver a curriculum that enables children to be confident and take ownership of their learning. Our curriculum builds resilience and fosters curiosity. We teach a broad and balanced curriculum, utilising the rich historical and geographical location of our school. Furthermore, the unique area we live in allows us to make useful comparisons within Britain and the wider world. This facilitates important learning about equality, diversity and inclusion. Children will leave Aspin Park equipped to succeed in an ever-changing and diverse world.
How we teach our Curriculum
Our curriculum builds knowledge, understanding and skills through enquiry, deliberate practice, creativity and experiences. Children have the opportunity to question, apply, reflect, and transfer skills and knowledge.
To begin a unit of work, we sow the seeds of enthusiasm for learning with a memorable experience. We develop knowledge, skills and understanding through creative and curious approaches. We engage pupils with an overarching question for investigation and make links across the curriculum. At the end of a unit of learning we consolidate through a showcase of learning.
The Elevate philosophy for teaching and learning is 'Keep Up not Catch Up'. We share a relentless determination that every child can achieve and that no child is left behind. Please visit the Elevate website or look at our Teaching and Learning Policy to find out more.
How we know our Curriculum is working
By the end of their time at Aspin Park, children will have developed resilience, ownership, confidence, creativity and curiosity. Pupils will make expected and above expected progress from their own starting points. We monitor and assess every stage of learning to make sure that children are given opportunities to close gaps of learning and are supported when required. Positive challenge is an integral part of our learning; we strive to move forward at each stage with unlimited learning as our goal.
Our School Curriculum Overviews
Our School Progression Documents
Topic Overviews
Long Term Overviews 2023-2024