SEND
SPECIAL EDUCATIONAL NEEDS, DISABILITIES AND YOUR CHILD
What kinds of SEND are provided for in your school?
Children with a wide range of SEND are welcomed into our school. If a pupil with additional needs requests a place at our school the child is always welcomed and strategies sought to meet their needs.
What to do if I think my child has Special Educational Needs?
If you have a concern about your child this should be raised with the class teacher, they will then discuss these concerns with the Special Needs Coordinator (SENCo) and it is then monitored. Our SENCo's are Mrs S Robertson and Mrs Z Gough and their contact details are headteacher@aspinparkacademy.org and z.gough@aspinparkacademy.org.
We will arrange a review meeting if this is appropriate. Within school we will keep a register of those children receiving additional Special Needs support. All children who require any additional or different support to access the curriculum or school community are monitored and recorded on this list. This is reviewed and updated termly, by the class teachers and the SENCo.
As a trust we have a SEND HUB Strategy which enables SENCO's to work across the trust schools.
Our SEND HUB Strategy offer is tailored to the needs of children in the trust and aims to:
Ensure all schools have access to high quality, dedicated SENDCo time, including small and new schools joining the trust
Develop Trust practices regarding SEND and ensure consistent application, including assessment and stages of SEND in line with the graduated approach, and provide opportunity for moderation to support this process
Enable increased opportunity for collaboration and sharing of skills expertise, and resources for the benefit of all Trust schools, linked to the continual growth and development of specific expertise, to ensure the trust can effectively support the full range of SEND
Enable Trust wide SEND CPD
Provide cost effectiveness/ value for money
Provide a local provision which maximises the benefit of the skills and expertise across the Trust for children
As a SEND HUB we will offer: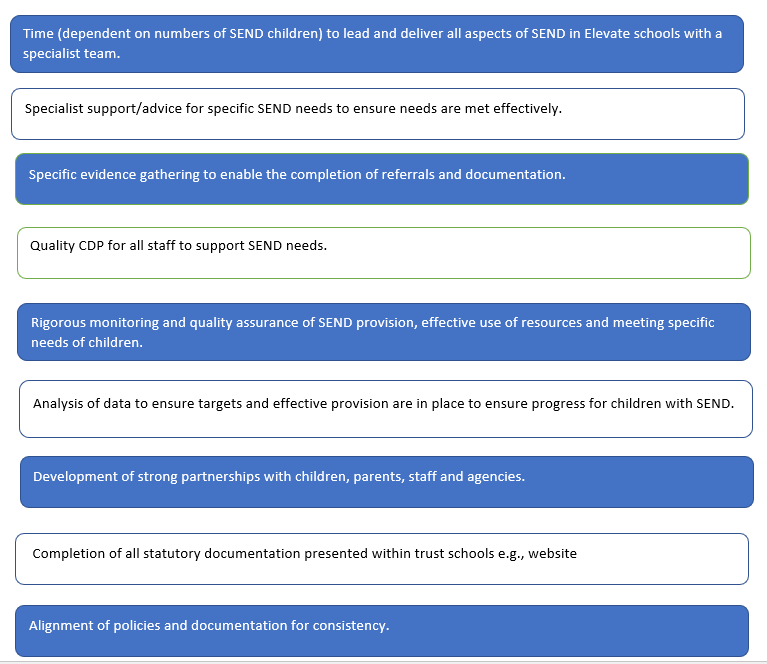 How will school staff support my child?
High quality support for learning within mainstream lessons is the most important factor in helping pupils with SEND to make good progress alongside their peers. Teaching assistants are deployed where the need is and this can be done on a lesson basis in order to respond flexibly and swiftly to need. If a specific allocated time is given to a child then parents will be informed. This may be in the form of in class support or interventions, small groups or 1:1 sessions. The provision map in school shows the range of strategies we offer to children with specific needs. For a very few children more help will be needed than is normally available through the school's own resources. Most pupils will benefit from SEND support, but some pupils who need high levels of support, or who have complex needs will need to be referred for an education, health and care plan through the local authority, which may include a risk assessment.
We can talk to you about this in more detail or you can contact the SENDIASS service on 01609 536923
How will I know how my child is doing?
We will communicate with you regularly, usually once a term, to discuss how well your child is doing. We value what parents have to say and respond to it. For pupils with SEND it is often desirable that there is more frequent communication as it is vital that parents and school work together closely. Your knowledge and understanding of your child's needs is essential to support the school in making the best provision for them. This will take account of you and your child's hopes, personal goals and interests.
This will allow us to regularly explain to you where your child is in their learning, and to work with you to ensure the most appropriate targets are set to ensure progress.
We have parents meetings during the Autumn and Spring term where you will be able to find out about what your child is doing and how they are progressing to their targets. Current progress levels and reference to the national curriculum expectations will also be shared. The school also operates an open door policy whereby parents can pop in to speak to the class teacher; if they are not available then a meeting can be arranged. Formal assessments take place on a termly basis. Teachers also monitor the attainment and progress of each child on a daily basis and deploy appropriate responsive strategies when needed. In such instances the teacher may contact you between the formal meetings.
Termly review meetings take place for all children on SEN Support or children with an Educational, Health Care plan (EHCP). All children receiving regular additional support through interventions/group work, will have a home/school liaison book in which the objectives, activities and progress made for each session will be recorded. This is intended to be shared between home and school on a regular basis. A section is also provided for parents/ carers to record their comments. Provision maps, targets and Inclusion Passports are reviewed and updated on a termly basis and signed by the teacher, parent and child. These include details of any strategies being used to support your child in class; details of any extra support or interventions for your child; your child's learning targets and their long term desired outcomes. We want all pupils with SEND to make at least expected progress, in line with their peers. .
How will the learning and development provision be matched to my child's needs?
Every lesson includes high quality support for learning within mainstream lessons. Evidence shows that this is the most important factor in helping pupils with SEND to make good progress alongside their peers. There may be occasions when we feel that some additional support within lessons may help your child to make better progress. If some additional small group or one to one support within lessons is planned, we will explain how this will work, what the aims of this support will be and how and when the impact of this support will be reviewed. Most importantly, this support will be aiming to make your child more independent in lessons. There are varying levels of teaching assistant (TA) support in the classroom. Children will access education at their level which will be challenging and help them to reach their targets. Reasonable adjustments are made within the classroom to enable the best learning environment possible for each child.
Our school uses a range of evidence based interventions to support pupils with SEND to make better progress. Interventions are structured learning programmes. If we think that we can offer a programme appropriate to your child's needs we will approach you to discuss what interventions your child is receiving and what the intended learning outcomes are; when during the week the intervention will be delivered and for how many weeks; who will be delivering the interventions (usually a well-trained teaching assistant) and where (e.g. in class or outside the classroom); how the interventions will relate to and support learning in the classroom; and how they will be monitored closely to make sure they are helping your child to make accelerated progress.
What support will there be for my child's overall wellbeing?
Your child's mental health and wellbeing are important to us. Within school we have a dedicated member of staff with the role of Pastoral Support Worker who is there to offer time and support for individuals and groups of children. She works closely with all other members of staff to offer a collaborative approach to a child's wellbeing.
We also pay for the services of a counsellor from the Time4you service to support those children who need specialist support.
All staff in school have received Level 1 training in the prevention and promotion of mental health and wellbeing, through Compass Buzz.
Training is given to staff for medical needs when they arise, for example the use of epi pens. All staff have basic first aid training. Foundation staff and many other staff across school are also paediatric first aid trained.
Administration of medicines must be co-ordinated by school staff. The medicines are kept in the medical room or fridge in the staffroom.
Behaviour in school is carefully monitored, many strategies are used which are outlined in our behaviour policy. Where there are additional needs, more individualised strategies and behaviour tracking systems are used.
What specialist services and expertise are available at or accessed by the school?
As a school we may need specialist support for your child. If we feel that the involvement of another agency would be beneficial to help with your child's needs you will be informed and asked to give your consent. Within school we can make referrals to the Inclusive education service hub which provide outreach support for behaviour, emotional and social difficulties, specific learning difficulties and communication and interaction. We can also make referrals to speech and language therapy, Early Help Team (social care), Compass Reach, Child and Adolescent Mental Health Services (CAMHS) and educational psychologists.
We are also able to work in close partnership with physiotherapy, occupational therapy, school nurse, hearing and vision teams if required.
A Special Educational Needs and Disabilities Information Advice and Support Service (SENDIASS) Parent Partnership Co-ordinator can be contacted through North Yorkshire's education offices or on 01609 536923. The Parent Partnership Coordinators can offer impartial advice and support which could include making a home visit to listen to any concerns you may have, or attending meetings with you. They may also be able to put you in touch with other organisations or parent support groups
What training have the staff, supporting children and young people with SEND, had or are having?
We have a lot of experienced teachers and teaching assistants, who have regular training to enable them to meet a wide range of special educational needs. We also arrange specific training to meet individual needs as necessary. The school has followed the Inclusion Development Programme produced by the government and has trained staff in how to best meet the needs of pupils with dyslexia and speech language and communication needs. In addition we have in house training led by the SENCo, Headteacher and other agencies e.g. autism, behaviour and executive functioning. Network meetings are attended by the SENCo to ensure we are up to date with current recommendations. Mrs Gough has the Postgraduate Certificate in Inclusive Education and the National Award for Special Educational needs Coordination.
How will you help me to support my child's learning?
You can support your child by listening to them read, read to them and support them with their homework, for example practising spellings. We have lots of different ways you can support your child's learning in school. You will have opportunities to attend parent's evenings and curriculum evenings, where we share information on how to help your child learn. You may also wish to volunteer in school or take part in school trips. There will be opportunities to observe your child in whole school and class performances eg. class assemblies, plays and carol singing etc.
For information on how to help your child at home please talk to your child's class teacher. They will be very happy to help and offer appropriate advice.
How will I be involved in discussions about and planning for my child's education?
Parents are invited to attend review meetings to discuss individual provision maps where specific targets will be discussed and set. Regular communication is possible through the home / school liaison book. Parents evenings and our open-door policy allows regular contact with the class teacher.
How will my child be given an opportunity to share their views?
We regularly listen to the views of all children to shape provision in our school. We have an active School Council and Eco Council who meet regularly to share their ideas and influence decisions that affect the children. In addition, it is vital that the views and aspirations of children with SEND are listened to and they are supported to achieve their aspirations as far as possible. These children are consulted regularly by staff to reflect on their progress and many of their views are recorded in their liaison books after intervention sessions. When reviewing children's progress each term we ask them to share their successes and preferences so that we can tailor the support to keep them motivated and feeling positive. When appropriate, we may use roleplay, pictures or observations to develop our insight into their perspective and we often work with parents and other adults to provide comfortable, informal opportunities for children to share their views.
How will my child be included in the different activities available including school trips?
We have a strong school community and ensure that all children have access to all curricular and extra-curricular activities, including school trips. Pupils with SEND are equally represented in positions of responsibility e.g. the school council. For a school trip a pre-visit will normally happen, a risk assessment will be done and adaptations will be put in place. Adaptations previously put in place include parents accompanying the child, transport by car due to not being able to get on a coach and social stories for children to become familiar with the agenda. Parents will be consulted by the class teacher regarding any difficulties we may encounter. We will always go the extra mile to ensure every child can access a school trip.
How accessible is the school environment?
Our building is on one level and each main building is accessible via ramps.
Who can I contact for further information?
If you are concerned about your child initially approach the class teacher. They can then discuss progress with the SENCo. Other people involved in working with your child include Teaching Assistants and outside agencies. You are welcome to make an appointment to meet with any of us to discuss questions you may have.
If for any reason you are unhappy and wish to make a complaint the designated Governor for SEND in the school is Mrs Hitchings and complaints about SEND should follow the general complaints procedure. It is always best to approach the teacher or the Head Teacher first, to see if your concerns can be immediately addressed. If you still feel that your view has not been listened to or answered to your satisfaction you can make a formal complaint by writing to the chair of governors at the school.
How will the school prepare and support my child to join the school, transfer to a new school or the next stage of education and life?
We have strong links with secondary schools in the area. There are transition days for all Year 6's. Additional visits may be set up with opportunities to meet members of staff, view timetables and experience the environment. High Schools are invited to Annual Reviews in Year 5 and Year 6, discussions take place between staff and the children's files are shared with the new setting. If a child is transferring to our school we will contact the previous setting for information, attend review meetings, set up transition visits and make a book about our school (if this is appropriate). If your child is leaving our school we will contact the new school with any relevant information and documentation.
How do you evaluate the effectiveness of the provision made for children and young people with SEN?
The progress and attainment of all children is carefully monitored and reported to parents. We track pupil progress throughout the year, alongside national curriculum tests; we also track children working on specific areas of the curriculum carefully with regular reviews against their personalised targets. If a child is provided with additional and different provision/interventions, we will carefully monitor the impact by a variety of methods such as: measuring how the intervention accelerated progress over a given time or the before and after impact on self-confidence, behaviour etc. During the planning meeting with parents, and where possible the child, the teacher will explain what the expected impact will be by the time the intervention is reviewed and how this will be measured. We use Individual Provision Maps (IPMs) to capture this information, which is written during your meeting. The Governing body is regularly updated on the provision for SEND and relevant issues that arise.
The school will evaluate the impact of all interventions and whether they have a strong evidence base of effectiveness. Other provision, for example provision regularly used in-class (known as Quality First Teaching), will be evaluated regularly by the Senior Leadership Team.
How are the school's resources allocated and matched to children's special educational needs?
Our school budget is allocated towards the needs of the children in school. The school reflects on numbers of children to decide the class structure. Teaching Assistants will work in class, run interventions and generally support children where it is needed.
How is the decision made about how much support my child will receive?
Where we feel that something additional or different is needed to support your child we will discuss this carefully with you. This information may well be recorded in a document for you and your child, known as an individual provision map or an individual education plan. This will include details of any strategies being used to support your child in class, details of any extra support or interventions for your child, your child's learning targets, the next date when your child's progress will be reviewed.
If your child is not making good or better progress, and the gap between them and their peers is widening, then your child may be offered in class support or take part in an intervention, either in a 1:1 situation or in a small group, to address their needs. Support should be aiming to make your child more independent in lessons. This decision will be made by the class teacher and the SENCo.
We use a range of strategies to support pupils with SEND to make better progress. We will discuss with you what support your child is receiving and what the intended learning outcomes are. Progression will be monitored closely by the class teacher and reviewed by the Inclusion team termly.