Reading

"I like discovering new words"
Our Reading Flow Chart outlines key aspects of reading teaching and learning in KS1 and KS2 at Aspin Park Academy.
At Aspin Park Academy, we are passionate about supporting our children to become readers who love books and develop the skills to enable them to read and understand a range of high-quality texts across the curriculum. We believe reading is not only the key for academic success but is also a key life skill, and as such we are dedicated to enabling our children to become lifelong readers who recognise the enjoyment in diving into a book.
Pedagogical Approach
We 'sow the seed' by introducing high quality texts that are linked to current learning.
We 'engage' the children by selecting relevant and age-appropriate books and by creating warm and cosy reading areas in all classrooms and in our libraries. All class novels are linked to the year group topic where appropriate. The children begin to develop a bank of vocabulary, phrases and grammatical skills.
We 'develop' the children's skills through daily phonics and reading teaching in EYFS and KS1 with an emphasis on accuracy, fluency and comprehension, as well as with guided reading sessions and class comprehension lessons in KS1 and KS2. Modelling is a key part of reading to ensure children hear examples of intonation and a 'story-teller' voice. We model identifying and defining new vocabulary to help children to understand unfamiliar texts.
We 'harvest' reading by giving children independent reading opportunities. Reading lessons start from EYFS and carry on all the way to Year 6. Reading is promoted in every classroom with reading areas, displays and curiosity cubes.
Our INTENT in reading is
To support all children to be great communicators through their reading. We want our children to get enjoyment from reading books and to be carried away by the creative possibilities of an imaginary world. We will encourage children's enthusiasm and engagement in reading by ensuring our high-quality texts are relevant and focus on our current topic if possible. We teach children to read for accuracy, fluency and then for comprehension. We teach our children to be confident readers who can use a 'story-teller' voice.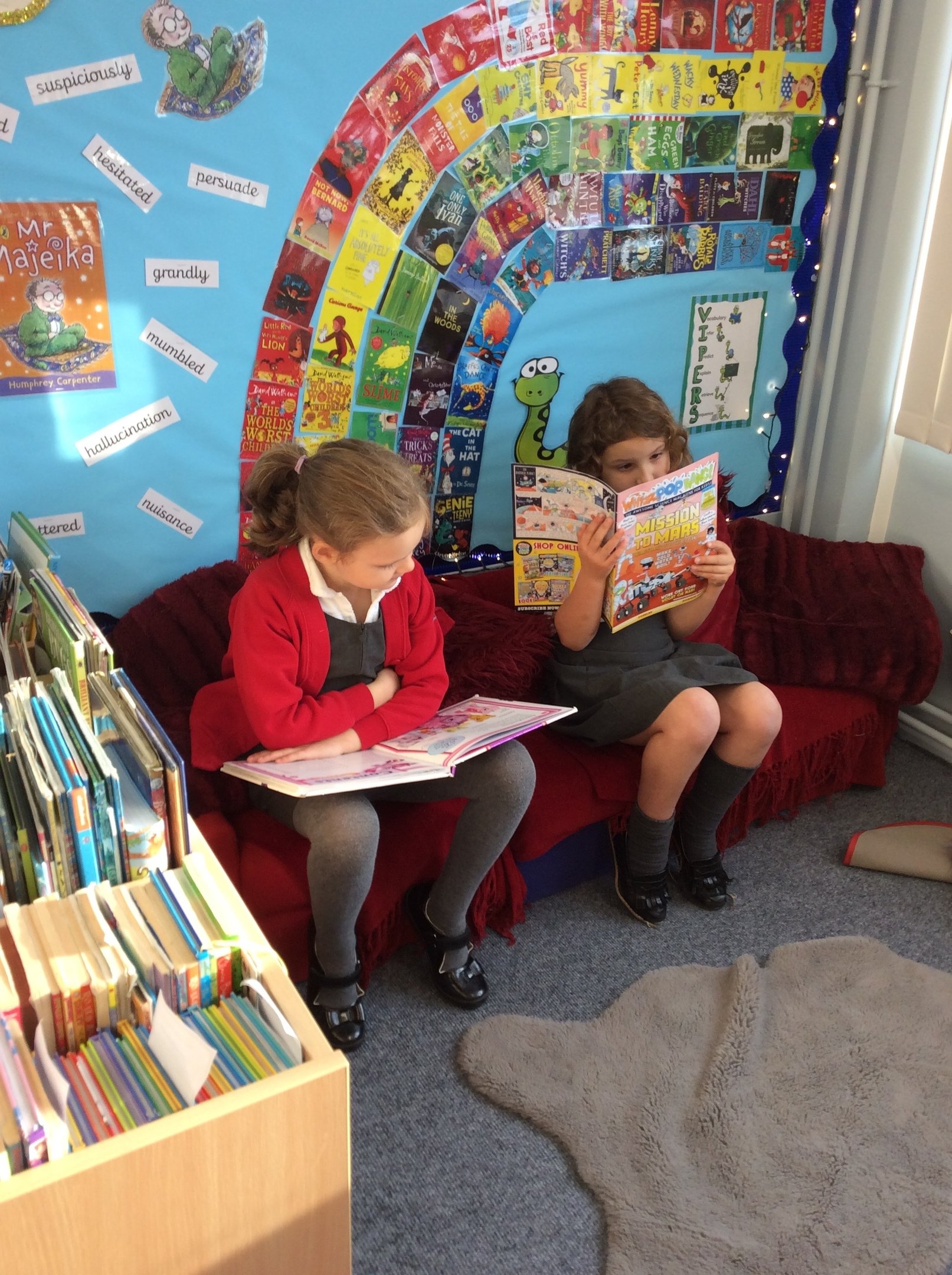 We IMPLEMENT this through
Engaging teaching, high quality texts, KUNCU strategies and the RWI scheme are the key tools that are used to support the teaching of reading at Aspin.
Children in EYFS/KS1 are taught RWI phonics and reading daily. EYFS/KS1 children are encouraged to take their love of reading home with appropriate bookbag books and storybooks that they have read in school as well as a reading-for-pleasure book that they can select themselves from our school library.
Year 2 and Year 3 progress to using the Project X guided reading books to explore a variety of the reading domains in detail. They read book banded books and high quality year group texts. Throughout KS2 children continue to read the book banded books until they become free readers when they are then encouraged to select books from the class and school libraries.
At all stages throughout the school, we teach children the techniques that will build their vocabulary and allow them to search for meaning and inference in what they read. We do this by focusing on the domains donated by the acronym VIPERS – vocabulary, inference, prediction, explanation, retrieval and sequencing/summarising - and teaching children the necessary skills to master them.
The "Fab Five" picture books (books that are chosen and read repeatedly so that the children become familiar with the stories) are used in EYFS and KS1. Individual reading turns continue throughout school. From Year 2 reading will also be taught as a class using Cracking Comprehension and Head Start.
Years 3 to Year 6 work on a specific domain in their reading lessons as well as answering VIPERS questions on an unseen text once a week. Children are encouraged to work collaboratively at times, through the use of talk partners to help further their thinking and develop skills for working with different people.
The IMPACT
of our reading approach is
Children will make good progress every year from their own starting points. By the end of Year 6 they should be able to read accurately and fluently. Our children will acquire a rich vocabulary and will be able to confidently answer a range of comprehension questions around a text. We hope that our children will learn to love reading and carry this skill into future life.
"Reading is fun because you can learn different facts"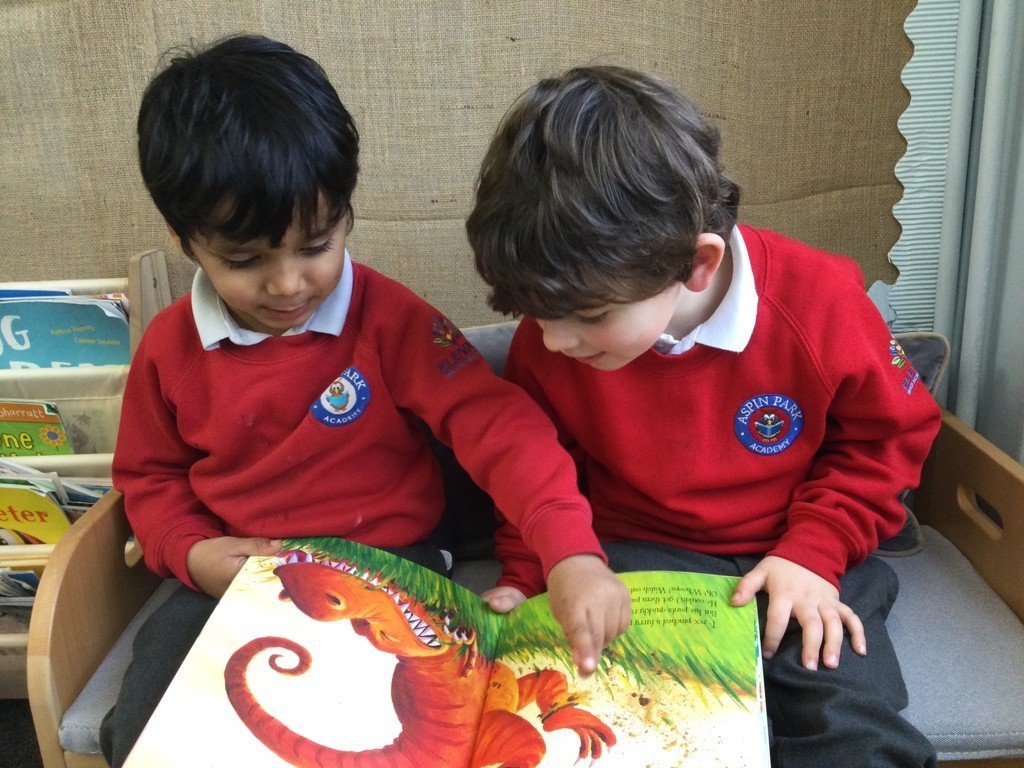 Classroom Environment
Every classroom has an English 'working wall' to display and support current English learning. All displays will have a blue border. They may show useful vocabulary, an exemplar piece of work, resources and how to use them. Every classroom has a reading display which has information about the class text, book recommendations, books the class has previously read, relevant vocabulary and reference to VIPERS (reading domains).

Informing Parents
At the start of the academic year, all parents/carers are invited to a year group curriculum workshop where staff discuss the aspects of a reading lesson, including how it is taught, what skills the children will develop, why reading is so vital and how they can support their child's learning at home. Parents/carers are given access to the reading resources (Oxford Owl and Reading Plus) to further support their child at home. Structured conversations and termly reports also keep parents/carers informed as to how their child is doing in their reading lessons.
"I like finding the adjectives in a reading book"